SpamExperts
We know that dealing with spam can be a frustrating and time consuming experience. While cPanel's built-in spam filtering (SpamAssassin) can provide some relief, it falls short in many areas. For those wanting true business class spam filtering, SpamExperts is available. SpamExperts offers a number of benefits over the basic cPanel SpamAssassin mail filtering:
Highly Effective - Anti-spam rules are constantly updated to help with the detection of current spam trends.
Virus Scanning - All emails are scanned for viruses by ClamAV using the standard definitions as well as other datasets specialized in email virus problems, provided by several external partners, to ensure real-time, optimal protection against the latest virus outbreaks..
Message Quarantine - All emails detected as spam are stored in a message quarantine that can easily be managed by each email user. This keeps dangerous emails off of your computer while also giving you the opportunity to inspect what has been detected.
Daily Quarantine Reports - Every day, each email user is sent a quarantine report that lists new emails that have been quarantined along with options to delete the email, release it, white / black list the sender and even train the filtering.
User Configurable Settings - Each email user can manage their own message quarantine, blacklist, and whitelist.
Email Spooling - If your server is offline for any reason, SpamExperts will queue your incoming email and deliver it once your server is back online.
Below you can see a sample quarantine report. By default these reports are sent to each email user every day.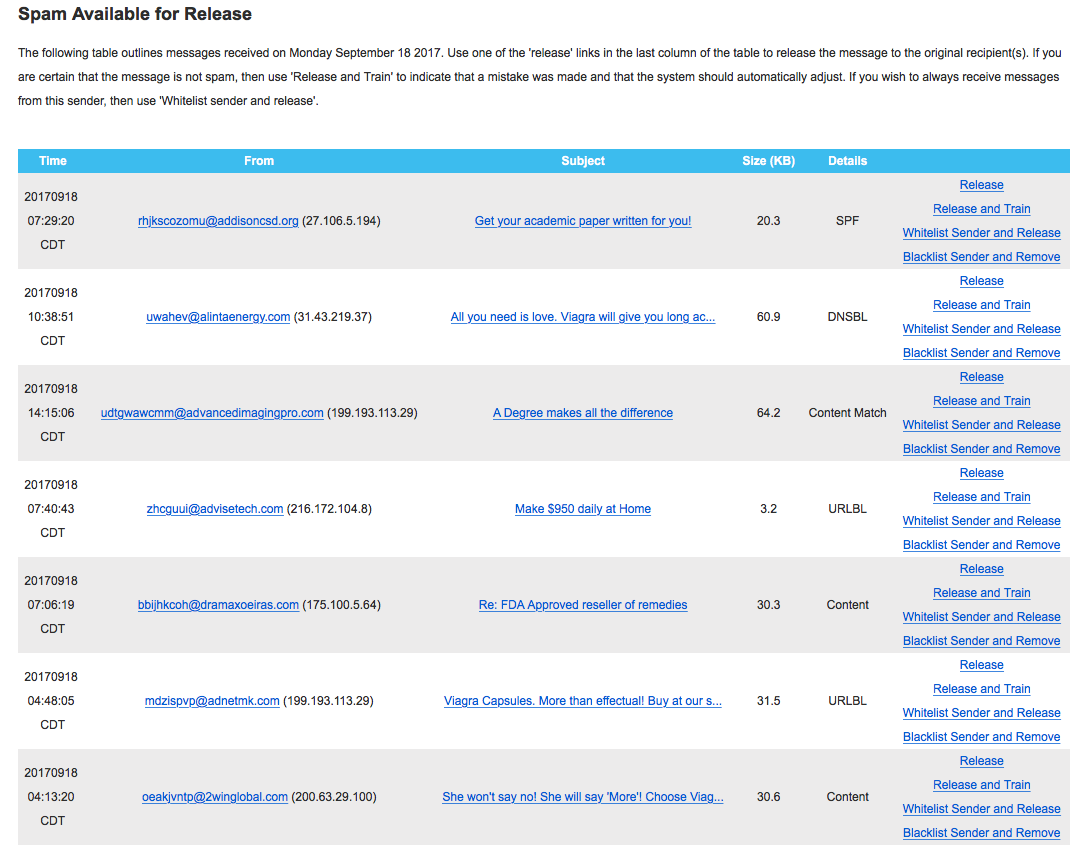 We offer a free 30 day trial of SpamExperts. This gives you a full month to run it through its paces and see how you like it. This service is enabled per domain so it will automatically filter every email address that you have setup on the domain. Existing clients can submit a ticket via
our portal
to get SpamExperts service activated. After the free trial, pricing is a very simple and affordable $2.50 per domain per month, which includes up to 1,000 filtered email addresses.
I recommend Dathorn to anyone that asks me... They have been such a great host and continue to provide EXCELLENT support...